Judie May - Secretary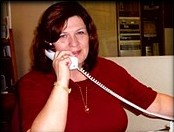 BACKGROUND
: Married to a wonderful husband. Mother of two children, a dog and a cat. I have worked in the mainstream for over 20 years and since joining the WRGN family, have enjoyed helping in the ministry. I don't have a job now... I have a purpose.
SALVATION
: I accepted Christ at the age of 12 at a summer Bible camp. I attended the Bennett Presby. Church in Luzerne and participated in the choir, VBS, and helped teach Sunday School with my mother. Through some of my jobsI have had opportunity to travel and I always carried tracks with me and enjoyed talking to people and passing them out whenever I could. Now I enjoy talking with the people both in Pennsylvania and in the Virgin Islands any chance I get about the Scriptures and still witness to everyone I can.
FAVORITE SCRIPTURE VERSE
: "Make a joyful noise unto God all ye lands. Sing forth the honor of his name; make his praise glorious." Psalms 66:1-2
FAVORITE FOOD
: My husband's homemade pizza.
FAVORITE DESSERT
: Banana Cake.
HOBBIES
: Camping, archery and fishing are among my favorite things to do, however, anything outdoors.
OTHER
: One thing I truly enjoy is growing a vegetable and herb garden.