Jonathan Broscious - Operations Manager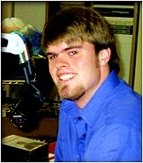 BACKGROUND: Graduated from Cedarville University with a B.A. in Electronic Media with concentrations in Audio and Management and Sales. Before that I was homeschooled all the way through highschool with my two younger brothers. Played piano for nine years and guitar for five. Married to the wonderful and gorgeous Johanna Broscious, with one beautiful daughter.

SALVATION: I grew up in a Christian family, and asked to receive Christ right before my fourth birthday. My faith didn't really become real until I was in junior high, and went to Scholarship camp because of my participation in AWANA.

FAVORITE SCRIPTURE VERSE: "But seek first his kingdom and his righteousness, and all these things will be given to you as well. Therefore do not worry about tomorrow, for tomorrow will worry about itself. Each day has enough trouble of its own." Matt. 6:33-34

FAVORITE FOOD: Meat. I love steak, hamburgers, chicken wings, and almost any other kind of meat. The spicier, the better. Mexican is wonderful.

FAVORITE DESSERT: I love ice cream, but not chocolate ice cream. I've never liked chocolate ice cream.

HOBBIES: Having people over, Mountain Biking, NASCAR, Computers, Music, Sunny Days, and Cooking. I know, cooking doesn't really fit in, but I like making tasty stuff!

OTHER: You know, I never knew how beautiful a baby could be until mine was born.